Parts
Power Zone Equipment Inc. sells replacement parts for many pumps. When a pump component wears out, it is often better to replace the part rather than the whole pump. PZE's pump department is networked with a variety of parts manufacturers and wholesale distributors. Rather than shopping around for the parts you need, Power Zone can find all the parts that you need simply by calling us.
Our staff is knowledgeable in pump rebuilding and components and can help you find the parts that you need for any pump model and type. Dealing in parts has given them the experience to find replacement parts for old or outdated pumps. When a part cannot be found, we offer services to custom fabricate parts. Our engineering team and full machine shop can make any part necessary to get your pump back to operational.
We catalogue parts orders for future reference. When a pump drops out of service, re‐ordering parts can be done quickly and easily. Our sales team strives to respond to requests quickly so that you do not have to wait to get your order. We understand that a down pump can cost you money. Our team will work quickly to get you the parts you need without having to wait.
In addition to pump parts, Power Zone Equipment also stocks a large number of sheaves and bushings. At a fraction of the cost of new, used ones can be quickly cleaned, blasted, painted, and ready for use on equipment.
To request information on parts for your product, contact sales@powerzone.com or use the contact form.
We provide parts for Reciprocating Pumps made by:
Gardner Denver
Gaso
National
Weir SPM
FMC
Union
Wilson Snyder
Wheatly
Ajax
Aplex
Oilwell
Emsco
Kerr
OPI
Bethlehem
We provide parts for Centrifugal Pumps made by:
Aurora
Fairbanks Morse
Mission
Power Zone is an OEM dealer for:
Aplex
Meyers
National Oilwell Varco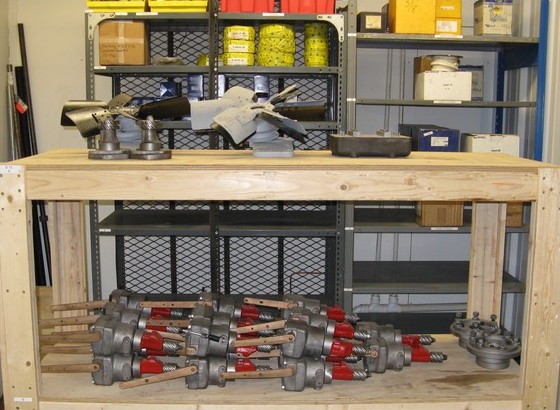 Bearings
Connecting Rod Bearings
Crankshafts
Crosshead Pins
Bushings
Connecting Rods
Crosshead Pin Bushings
Crossheads
Eccentric Shafts
Fluid End Packing
Fluid Ends
Gaskets
Gears
Gland Followers
Lantern Rings
Main Bearings
Piston Rods
Piston Liners
Pistons
Plungers
Pony Rods
Power End Packing
Power Ends
Seals
Sheaves
Shell Bearings
Throat Bushings
Valves
Wiper Boxes
Wrist Pin Bushings
Wrist Pins