Engineering Services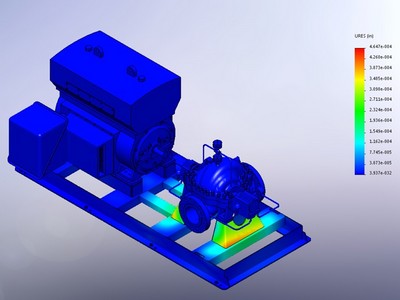 Power Zone Equipment employs a full staff of engineers to ensure the safety and durability of our pumps and packages. From start to finish, all engineering work is done in-house to ensure our equipment meets and exceeds all of Power Zone's standards of excellence. The success of Power Zone Equipment can greatly be contributed to the wide variety of engineering expertise it has in pumps, motors, seals, controls, programming and project management.
With a company history of 15 years in the pumping industry and individual staff members having more than 25 years of experience in the manufacturing industry, Power Zone Equipment is well suited to answer any questions you may have on your pump, driver or pumping system. Our engineers have worked in a wide variety of projects, including the design of pump impellers, complete test loops, and countless turn-key pumping systems, turn-key pumping systems, some of which have required extensive 3rd-party inspections and certifications such as compliance with ASME Code and Colorado Resolution 35. We have solved problems in all aspects of the pumping world including concerns of NPSH, cavitation, seal wear and pumping low vapor pressure liquids. Equipped with Solidworks, AutoCAD and MathCAD and utilizing a full machine shop, our engineers are able to design and test any custom pump part and have it fabricated the same day for a quick turnaround. Whatever your pumping problem is, our engineers can find a solution for you.
When it comes to controls, Power Zone can add any type of safety feature to fit your needs or price range. We are capable of providing packages from only simple switches and gauges to a complete control system packages including PLC's, touch screens and sensors, allowing you to view pumping history or diagnose any concerns on the spot. Synchronizing electric motors, harmonic filters and variable frequency drives with our controls PLC in a simple user friendly HMI interface is no problem for our staff of engineers. Every control package is designed and tested by our in-house electrical engineer, ensuring your package is ready to safely operate upon delivery.
Power Zone Equipment engineers also double as our project managers. This ensures all of the planning, detailing and engineering that goes into each one of our projects is translated to the customer and the production team. We communicate closely with our clients to ensure their needs and wants are met throughout the project. Updates and corrections to projects during production are quickly addressed and resolved, allowing us to meet our quick delivery times. Our skids are calculated, designed and checked by our engineering team to ensure the greatest quality and strength possible is accomplished for the precise alignment of our pumps. Once a project is delivered, our engineers keep an open channel of communication with our customers to ensure everything is delivered according to their expectations. Our engineers take great pride in the projects they design and ensure our customers receive what they expect.
Whether you have a simple question or need a full pump package designed, the Engineering Team at Power Zone Equipment is up to the task of providing you the best service with the most reliable knowledge.
Educated in Net Positive Suction Head Calculations and Cavitation Prevention, and all other aspects of fluid dynamics
Knowledgeable in Pump and Motor Sizing for Specific Applications
Skilled in Base Plate Structural Design and Sizing
Experts in Pump Seal Specification and Procurement
Programming and Sensor Data Acquisition Proficient
Solidworks, AutoCAD, MathCAD, and Excel Adept
Res-35 Experienced
Start to Finish Project Management
"From Concept to Completion"