Testing Services
Power Zone Equipment's testing department ensures that pumps and equipment are working as expected before they ship. Utilizing 15,000 gallons of filtered water storage, combined with support pumps, piping, and an integrated monitoring system, we can test pumps with a wide range of flows and pressures. We understand that every pump test is unique, but we have always found a way to successfully test our pumps, no matter what size or style.
Our monitoring system utilizes different pressure, temperature, flow, and speed sensors communicating with a PLC to ensure accuracy and safety when testing pumps and packages. From the safety of our testing control room we can record the desired data needed, check pump performance, and create an as-built pump curve.
Our industrial equipment testing facility can handle more than just pumps. With a large on-site generator, we can test electric-motor-driven equipment over 2,000 horsepower. We can also test propane, diesel, gasoline and natural gas engines and generators. With a 1,000 horsepower engine dynamometer, we are able to ensure your engine operates at the expected capacity.
Piping and pump hydrostatic pressure testing is another common procedure we are familiar with. With a hydro testing pump capable of 20,000 psi, we are able to pressurize and monitor a large variety of pressure containing piping and equipment. Using API testing standards and a two-pen recorder, we can provide a professional pressure test with confidence.
No test goes unrecorded. Whether it's a simple functionality test for a pump package, a pump hydro test, or an in- depth efficiency test for a centrifugal pump, we provide test reports for every test we perform. Our goal is to make you feel just as comfortable as we are with each test, and we always welcome our customers to witness their equipment being tested in our facility. Ask our sales staff about more of our testing capabilities and options with your next inquiry.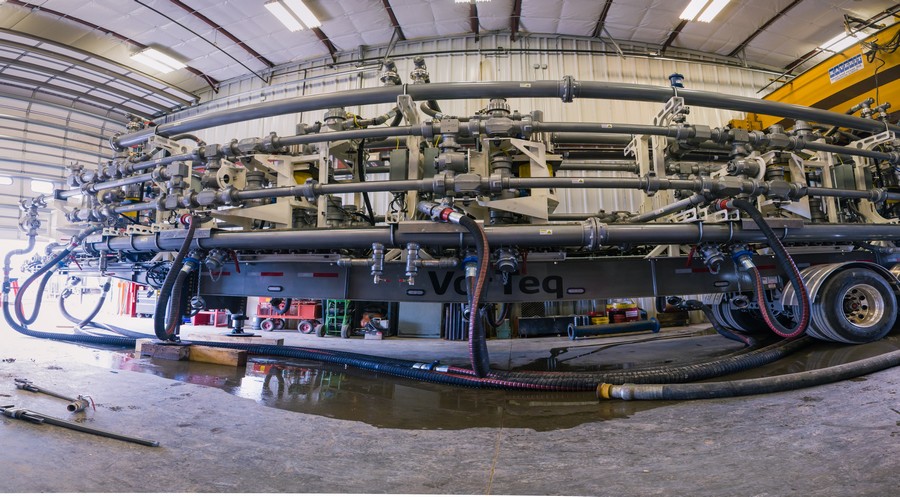 A wide variety of pump and flow testing

General, operational pump testing up to 4,000 horse power
Centrifugal pump efficiency tests
Reciprocating and centrifugal pump performance testing

Engines dyno testing up to 1,000 HP
Numerous API tests available
Hydrostatic testing available up to 20 ksi

Fluid end hydro testing
Centrifugal pump casing hydro testing
Vessel and piping hydro testing

Large electric motor and generator testing available
Test records provided with ever test performed
PLC monitoring system to ensure accuracy and safety
All testing performed in house
The Pump Testing Challenge – 08/04/2015
Having a facility to test a wide range of pumps is not always easy. Recently we unitized four, 1,500 horsepower, high volume electrically driven centrifugal pumps for Western Refining Pipeline. Due to the high volume and high NPSH requirements, the challenges that presented themselves in the testing phase were those that we had not faced before. After several modifications and repeated tests, each revealing the next limitation, we were able to successfully test all four pumps to full power capacity.
Our first challenge was the pumps were designed to pump crude oil at .804 specific gravity. Since our testing facility is equipped with water at 1.0 specific gravity instead of oil, we knew the test would require more than 1,500 horsepower, the rating of the electric motors. This made it necessary to run a reduced frequency test to protect the motors from exceeding their rated current.
The second big challenge of the test was getting the piping to and from the pump suitable to pass enough flow. Since the pumps are capable of 7,600 gpm at only 600 feet of head, the friction loss within the inlet piping created enough pressure to limit flow before a maximum flow test was accomplished. A large charge pump was built to provide the flow from the tanks to the main pump, and large, custom fabricated piping was built to join the tanks, pumps and restriction valves together.
High accuracy flow meters, and pressure sensors were used to monitor the pressure and flow and confirm the performance of each pump. A computer program utilizing the mathematical affinity laws was used to convert the reduced speed results, to the desired maximum speed results.
Although each pump was put into the testing stand several times, we finally got all four pumps successfully tested for performance and functionality. We are enthused about the increased capabilities this test resulted in, and are always looking forward for a chance to try challenging tests like this again in the future.
Carson Toews