1750 HP Triplex Pumps For Sale
Single Acting Triplex pumps come with three cylinders and are commonly used for various applications requiring low to medium flow rates including mud pumping, cement pumping, salt water disposal, descaling, high pressure pumping, Frac pumping and pipeline systems for the Oil & Gas, Agriculture, Mining, Municipal and Manufacturing sectors. We have new, used and rebuilt API 674 triplex pumps of all leading manufacturers like Union, Gaso, Emsco, Apex and Wheatley.
3 Items Found • Showing 50 Per Page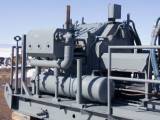 Used OFM 1800 Triplex Pump Package
Used 8" stroke triplex well service pump with 4" plungers on skid with Caterpillar 3412 diesel engine, pneumatic start, and Allison CLT 6061-4 transmission. OFM 1800 – Cat 3412. We are putting new Valves, Valve Seats, Valve Springs and Valve Cover Gaskets in this. Work Order # is 10665.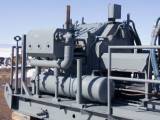 1800 HP
330 RPM
431 GPM
14874 PSI
Ratio: 6.3530
Stock No: 58561
Positive Displacement Pump
Reciprocating Pump
330
1800
431
14874
6.3530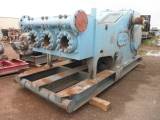 Used ZYZJ ZYF-1600 Triplex Pump Parts or Partial Pump for Parts
Used 12" stroke mud pump with bare steel fluid end. This pump is missing the below parts. Power end gears look in good condition. 2 – Wiper Box Rings and Seals 2 – Cross Heads 2 – Wrist Pins and Wrist Pin Retainers 3 – Stuffing Box Nuts – Liner Retainers 3 – Pony Rods 6 – Valve Covers – Locks 6 – Valves and Valve Springs 3 – Plungers / Piston Rods 1 - Suction Manifold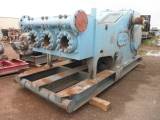 1600 HP
120 RPM
719 GPM
3392 PSI
Ratio: 4.2060
Stock No: 58141
Positive Displacement Pump
Reciprocating Pump
120
1600
719
3392
4.2060
Used ZYZJ ZYF-1600 Triplex Pump Bare Case
Used 5 1/2 -7 x 12 bare case
1600 HP
120 RPM
Stock No: 58142
Positive Displacement Pump
Reciprocating Pump
120
1600