Metering Pumps For Sale
As a leading global supplier of Metering Pumps, Power Zone offers metering pumps of major manufacturers like Lewa, Watson Marlow and Bredel. We supply used, new and reconditioned metering pumps including Peristaltic Metering Pumps, Diaphragm Metering Pumps and Plunger/Piston Metering Pumps. Metering pumps feature a special control system that allows liquid flow to be highly precise and accurate. Metering pumps are used for treatment of water, blending of liquids, extracting minerals, transferring fluid in pipelines in various industries, including Agriculture, Oil & Gas, Mining, Municipal and Manufacturing.
3 Items Found • Showing 20 Items Per Page
Filter
PLEASE NOTE: Keep an eye out for a verification email (check your junk or spam). When you see the email, be sure the click on the link to verify your email address.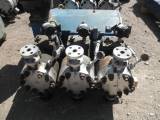 Used American Lewa G3S Metering Pump Complete Pump
Used M511 stainless steel triplex diaphragm/plunger metering pump, 10:1 worm gear with 40hp electric motor, capable of 18gpm @ 1741psi @ 173rpm Dims 60"Lx48"Wx61"H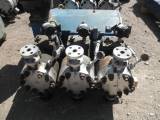 40 HP
173 RPM
18 GPM
1741 PSI
Stock No: 55677
Positive Displacement Pump
Reciprocating Pump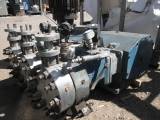 Used American Lewa G3S Metering Pump Complete Pump
Used M511 stainless steel triplex diaphragm/plunger metering pump, 10:1 worm gear with 40hp electric motor, capable of 18gpm @ 1741psi @ 173rpm Dims 60"Lx48"Wx61"H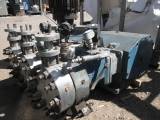 40 HP
173 RPM
18 GPM
1741 PSI
Stock No: 55703
Positive Displacement Pump
Reciprocating Pump