Grid Tie Solar Systems For Sale
Filters
PLEASE NOTE: Keep an eye out for a verification email (check your junk or spam). When you see the email, be sure the click on the link to verify your email address.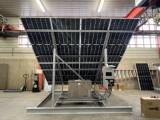 New SolarSet 028-GT-12460-0000-2-38F
Title: 12.46 KW Grid-Tie Solar System Make: SolarSet Model: 028-GT-12460-0000-2-38F Volts: 240 Phase: Single Phase KW: 12.46 Description: • (28) 445 Watt, Monocrystalline Solar Panels, Industrial Grade • (1) Fronius Inverter, UL 1741 Certified, Nema 4x, Includes DC disconnect, Capable of online monitoring if connected to the internet. • (1) Manual AC Disconnect Switch (Customer connection point) • AC Output: 12.5 KW Maximum, 208/240 Volt, Single Phase, 60 Hz • All components listed above to be mounted on a galvanized steel framework. All components are prewired together according to National Electrical Code (NEC). Unit completely assembled and tested prior to shipping from factory. • Unit Dimensions: 48.3 ft long x 10 ft tall x 10.8 ft wide (collapsible to 7.7 ft wide x 7.3 ft tall for transporting) *Note: Shipping, anchoring, installation, permitting, and sales tax (if applicable) are not included and are quoted separately. *Note: This unit is for Grid-Tie applications only and does not operate as a backup power source. A backup generator can be added as an option if backup power is required. Many other sizes and configurations available. Visit http://www.solarset.com for more information and pricing.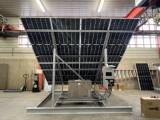 12.46 KW
1 Phase
240 Volts
Stock No: 60445

New SolarSet 024-GT-10680-0000-1-RIGID
New SolarSet 10.68 KW Grid-Tie Pre-Packaged Solar System, Complete Unit; New SolarSet Pre-Packaged Solar System, Grid Tie, Complete Unit, 24 Panels (445 watts each), 10.68 KW solar capacity with (1) 10 KW single phase grid interactive inverters. Capable of delivering 60 HZ power. 240 Volt Single Phase. Capable of being monitored remotely via internet connection. Unit is prepackaged and comes completely assembled. All panels, inverters, disconnects, etc. are prewired. Backup generator can be added upon request. Many other sizes and configurations available. Visit www.SolarSet.com for more information and pricing. (SolarSet is a division of Power Zone Equipment Inc.) Financing Available.

10.68 KW
1 Phase
240 Volts
Stock No: 60394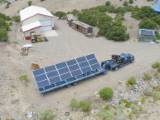 New SolarSet 018-GT-6480-0000-1
New 6.48KW Grid-Tie Solar System with the following features: - (18) 360 Watt mono-crystalline solar panels - (1) Fronius 6.0KW inverter - Galvanized frame and mounting for complete system - All necessary electrical equipment and hardware for complete system -Weight 4,000 lbs -Dims 408"Lx134"Wx113"H