Filter
PLEASE NOTE: Keep an eye out for a verification email (check your junk or spam). When you see the email, be sure the click on the link to verify your email address.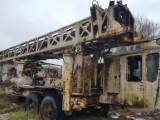 Used Drilltech D-60-K Drilling Rig
Year: 1985; Compressor: 1250 cfm x 150 psi; Mud Pump: 510-P Oillwell mud pump; trailer mounted; Tools/Other Options: pipe loading arm, 3,000' of 4 1/2" Ingersoll Rand drill rods (30' joints), pipe trailer, hydraulic pipe racks, dog house with 1250 gal fuel tank on front, 80,000 pull back.