Double-Acting Simplex Pumps For Sale
Power Zone supplies new, used and refurbished Double Acting Simplex Pumps of leading manufacturers like ITT Goulds, Kerr, Union and Wheatley. Double Acting Simplex Pumps have a single cylinder and two pumping chambers. Simplex Pumps are used in hand pumps, water wells, injection molding, steam pumps, pumpjacks, glycol circulation etc. in the Oil & Gas, Agriculture, Mining, Municipal and Manufacturing sectors. The simplex pumps are more commonly found in the Single Acting design. We also build and supply customized Double Acting SImplex Pumps based on specific requirements.
1 Items Found • Showing 20 Items Per Page
Filter
PLEASE NOTE: Keep an eye out for a verification email (check your junk or spam). When you see the email, be sure the click on the link to verify your email address.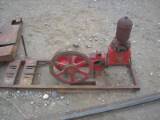 Used Goulds 1813 Simplex Pump Complete Pump
Used Goulds 1813 simplex production pump with the following features: • 3" stroke • 1 HP • Duplex stainless steel fluid end • 2 1/2 pistons • 1.25" suction connection • 1.25" discharge connection • Weight • Dims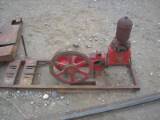 1 HP
105 RPM
13 GPM
100 PSI
Stock No: 52231
Positive Displacement Pump
Reciprocating Pump