500 HP Quintuplex Pumps For Sale
A Single Acting Quintuplex Pump has 5 cylinders designed for high pressures and smoother flow rates. We supply new, used and reconditioned API 674 quintuplex pumps of all leading manufacturers including National, Gardner Denver, FMC, SPM and Oilwell. Quintuplex pumps can be used in various applications including salt water disposal, descaling, high pressure pumping, Frac pumping, pipeline transfers in the Oil & Gas, Agriculture, Mining, Municipal and Manufacturing sectors.
2 Items Found • Showing 20 Items Per Page
Filter
PLEASE NOTE: Keep an eye out for a verification email (check your junk or spam). When you see the email, be sure the click on the link to verify your email address.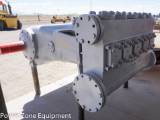 Rebuilt National 543Q-7XL Quintuplex Pump Complete Pump
Rebuilt NOV 543Q-7XL quintuplex production pump, last used in water pipeline service with the following features: • 7.125" stroke • Duplex Stainless Steel fluid end • 5.75" Tungsten Carbide plungers • Spherical valves • 10" ANSI 150# FF suction connection • 4" ANSI 600# FF discharge connection • Weight: 9,648 lbs • Dims (72"L x 62"W x 40" H)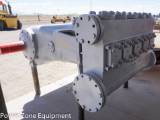 543 HP
280 RPM
1121 GPM
747 PSI
Stock No: 58718
Positive Displacement Pump
Reciprocating Pump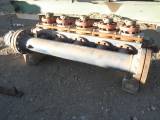 Used Wheatley HP-600-H Quintuplex Pump Fluid End Only
Used 446 SS fluid end, same as NOV 543Q-7H, with stuffing boxes, valves, valve caps, 6" 300# suction, 3" 2500# RTJ discharge with 8,000psi 2" hammer union connection. Can also fit HP-375 power end, max 166gpm @ 3978psi with 2" plungers or 110gpm @ 6000psi with 1.625" plungers.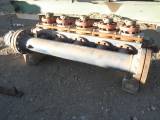 543 HP
280 RPM
153 GPM
5470 PSI
Stock No: 55651
Positive Displacement Pump
Reciprocating Pump